Chernobyl night.
The memorial of Chernobyl night. To dead, alive and unborn.. written on the stone.
The fire engines never returned in their garages, and the firemen never returned to their homes.
The firemen were the first on the scene, and they thought it was an ordinary fire. No one told them, what they were really dealing with.
THE LIQUIDATORS .
The Liquidators are those people who were recruited or forced to assist in the cleanup or the "liquidation" of the consequences of the accident.
As a totalitarian government the Soviet Union forced many young soldiers to assist in the cleanup of the Chernobyl accident, apparently without sufficient protective clothing and insufficient explanation of the danger involved.
Over 650,000 liquidators helped in the cleanup of the Chernobyl disaster in the first year. Many of those who worked as liquidators became ill and according to some estimates about 8,000 to 10,000 have died from the radioactive dose they received at the Chornobyl Power Plant. This group apparently includes those who built the containment building over the destroyed reactor No. 4 which is called the SARCOPHAGUS.
picture: Cleanup workers (Liquidators) going to the Chornobyl Plant. Photo by Lu Taskey.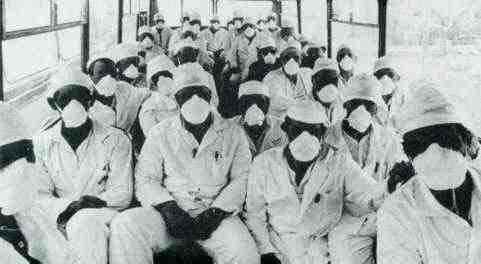 The map... 600 years... Cruising around ... Checkpoint... Loses ... The Liquidators ... Passing Chernobyl town ... Village election house ... Atomic plant ... Silence ... Ghost Town- Pripyat ... Bike shop ... Hotel ... New Beginning ... Their flag was still there ... No Labor Day parade ... Back to the USSR ... Devils Wheel ... Climbing up ... Vovik+Tanya=love ...Up on the roof ... Town where time stands still ..."Azure" and "Moonlight sonata" ... Kindergarten ... More of kindergarten ... Prometheus fire.