Back to the USSR.
This was the town in the early 1980's.
This is how it looks now. The park is the most radiaoactive section of town because it is directly in front of the reactor. On the day of the disaster, the North wind brought the first clouds here and it is said that people ran for their lives as they searched for their children in the atomic smoke......
Ghost Town is a modern Pompeii. The Soviet era is preserved here - in the radiation, for 18 years.
Every step toward the little cars adds 100 microroentgen to my geiger counter reading.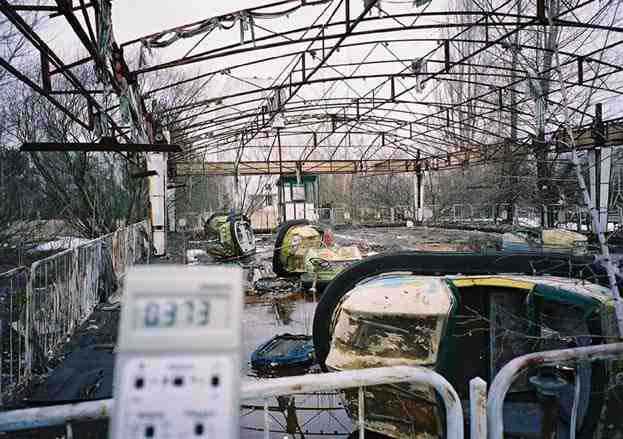 The map... 600 years... Cruising around ... Checkpoint... Loses ... The Liquidators ... Passing Chernobyl town ... Village election house ... Atomic plant ... Silence ... Ghost Town- Pripyat ... Bike shop ... Hotel ... New Beginning ... Their flag was still there ... No Labor Day parade ... Back to the USSR ... Devils Wheel ... Climbing up ... Vovik+Tanya=love ...Up on the roof ... Town where time stands still ..."Azure" and "Moonlight sonata" ... Kindergarten ... More of kindergarten ... Prometheus fire.